Camilla Molders Design custom designed rugs: After quite some hiatus, here I am, here in the blogosphere once more!
It is a great place for me to tell a little more about the stories behind the work that we do, so every now & then I will be here to do just that!
So to get started once again, if you have been following me over on instagram you might have noticed that I have a bit of a penchant for rugs and often take the opportunity in my design projects to design custom rugs for the project.
Its very fun!
So is saying the word penchant.
Some of the rugs that I have been designing are sculptured rugs : 3 dimensional woollen floor rugs that play with pile heights and carving details to create a bit of a floor party scene! I took my idea to the fine peoples at Designer Rugs and together we have worked to achieve the outcome that was so clear in my head.  I am thrilled with how they have turned out. The detail & the craftsmanship is simply amazing, and in the past 3 years we have made quite a few for my projects! So here are some of my favourites:
Our first ever sculptured rug that we produced is this big bright orange fella! It was coloured to match a jacket my client has (who is clearly a lover of bold colour & design!) and lives in the library of my Northcote project. Much of the pattern upon mirrors the art deco ceiling rose above, so was very personalised to the room.
**Side note, notice the artwork?  There is literally millions of German $$ framed up there, with currency from pre war Germany, when you needed over a 100 mill to buy some milk. Worthless now for milk buying purposes, but makes a pretty picture when all framed up!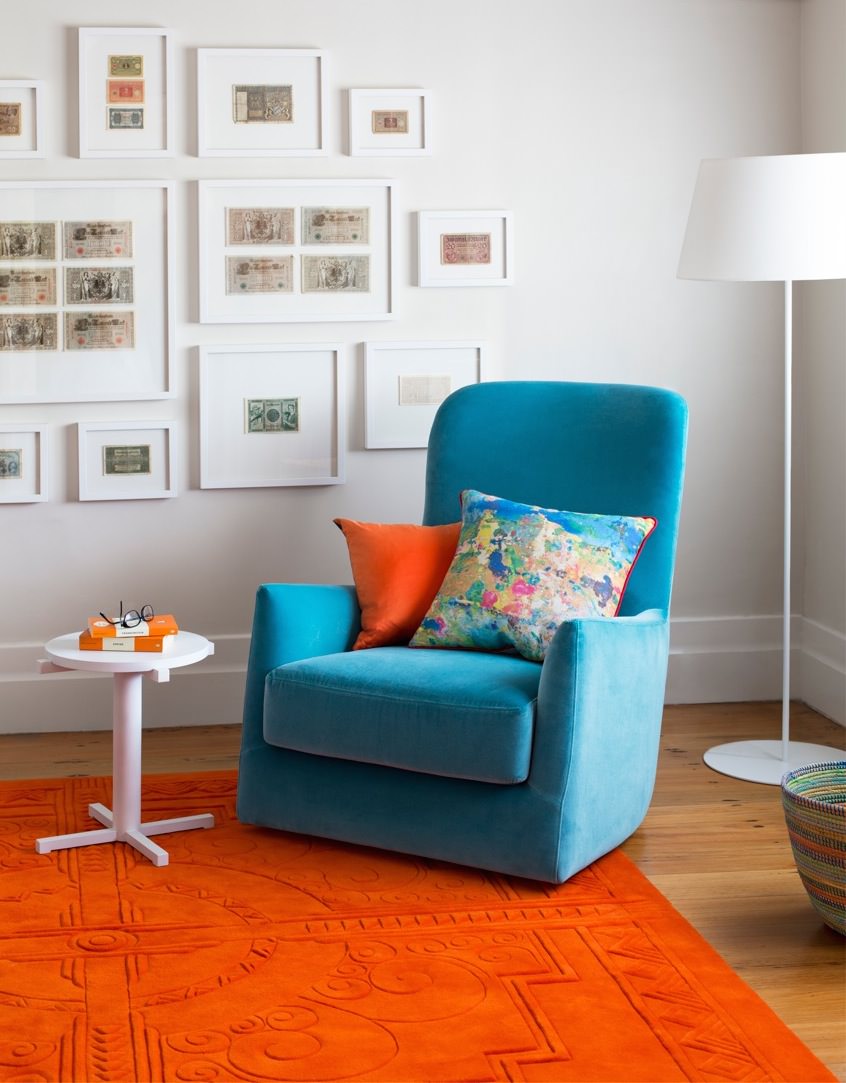 A look down gives a birds eye view.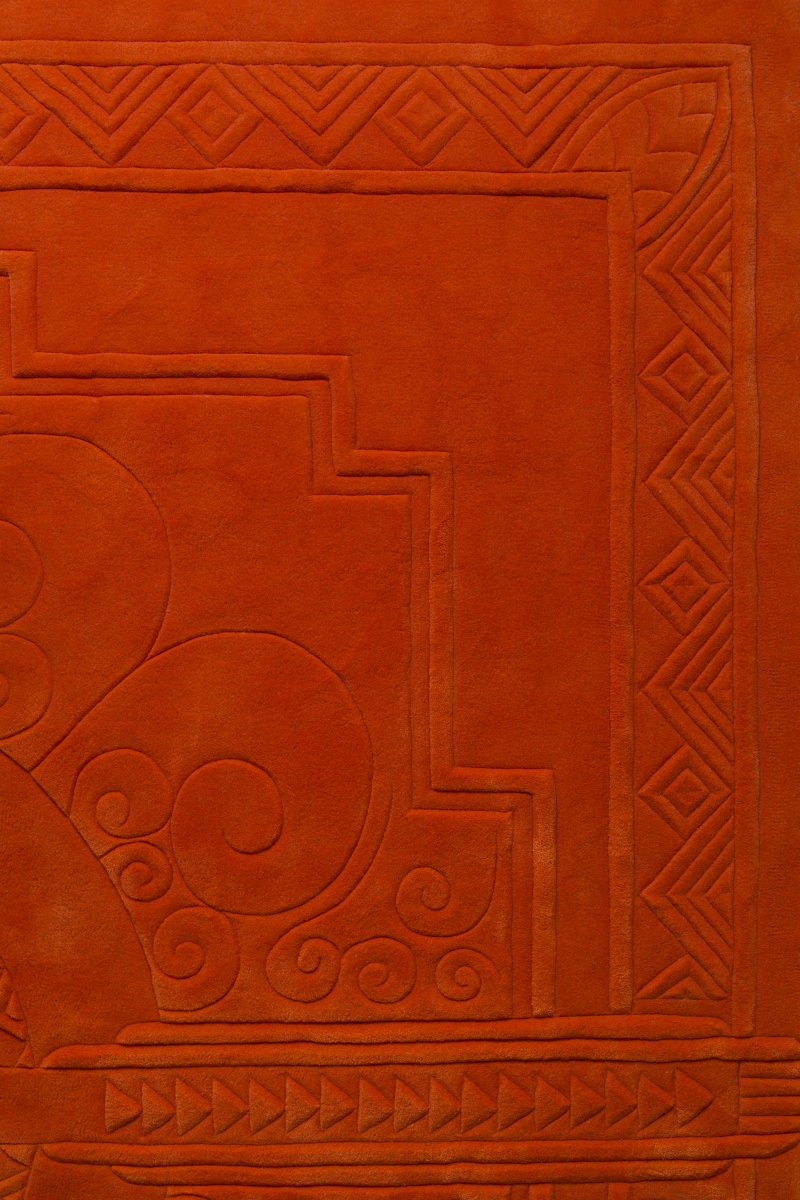 Pics Martina Gemmola
Here in our completed Kew project- which is a beautiful art deco home with a modern refresh, we used the floor rugs to make reference to the origins of the house starting with making quite an entrance with this green guy!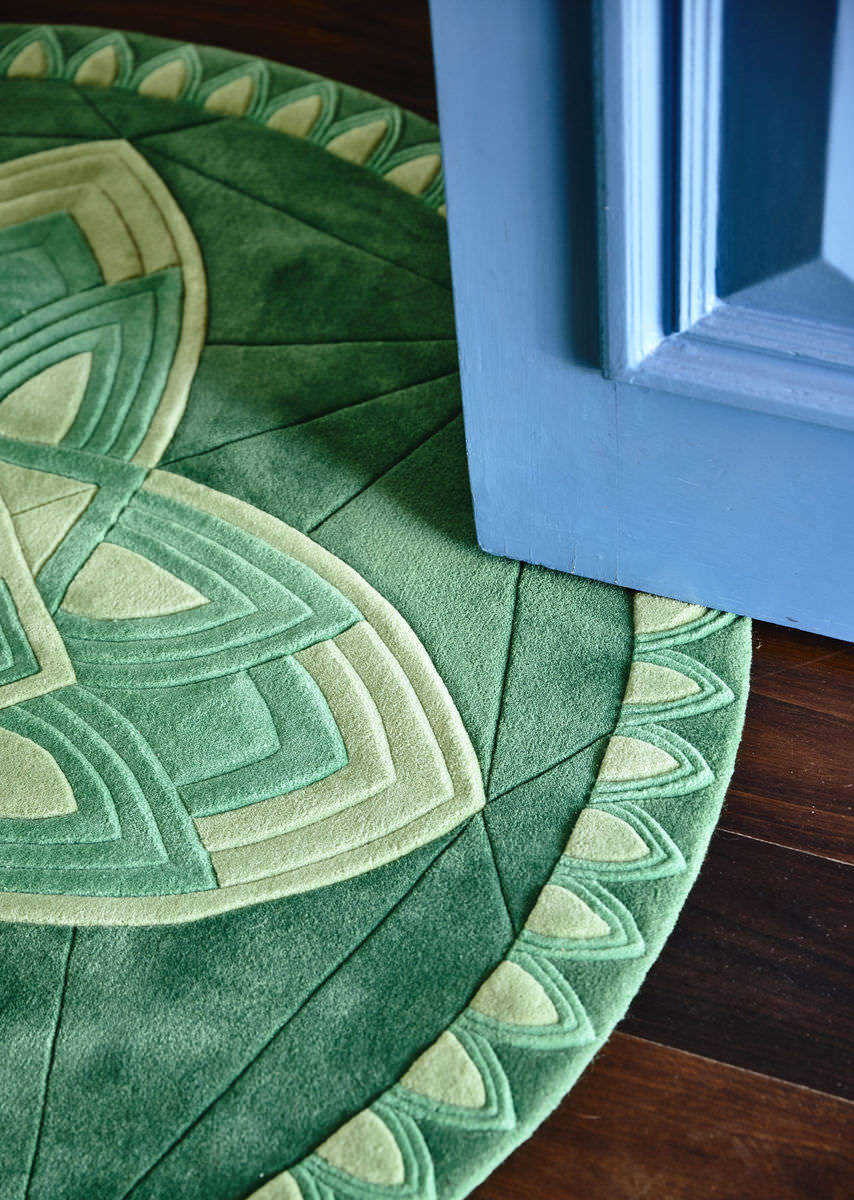 Out in the family living area, where much of the family living happens, we designed a huge 4 x 4 metre floor rug in bright Yves Klein kinda blue that has much of the living furniture placed upon. So we designed rug with the furniture placement in mind.
I love this image of 2 of my favourite things – the combo of the blue rug with the sculptured details and the walnut timber of the table just makes me exhale with a bit of happiness actually! (hey, each to their own!)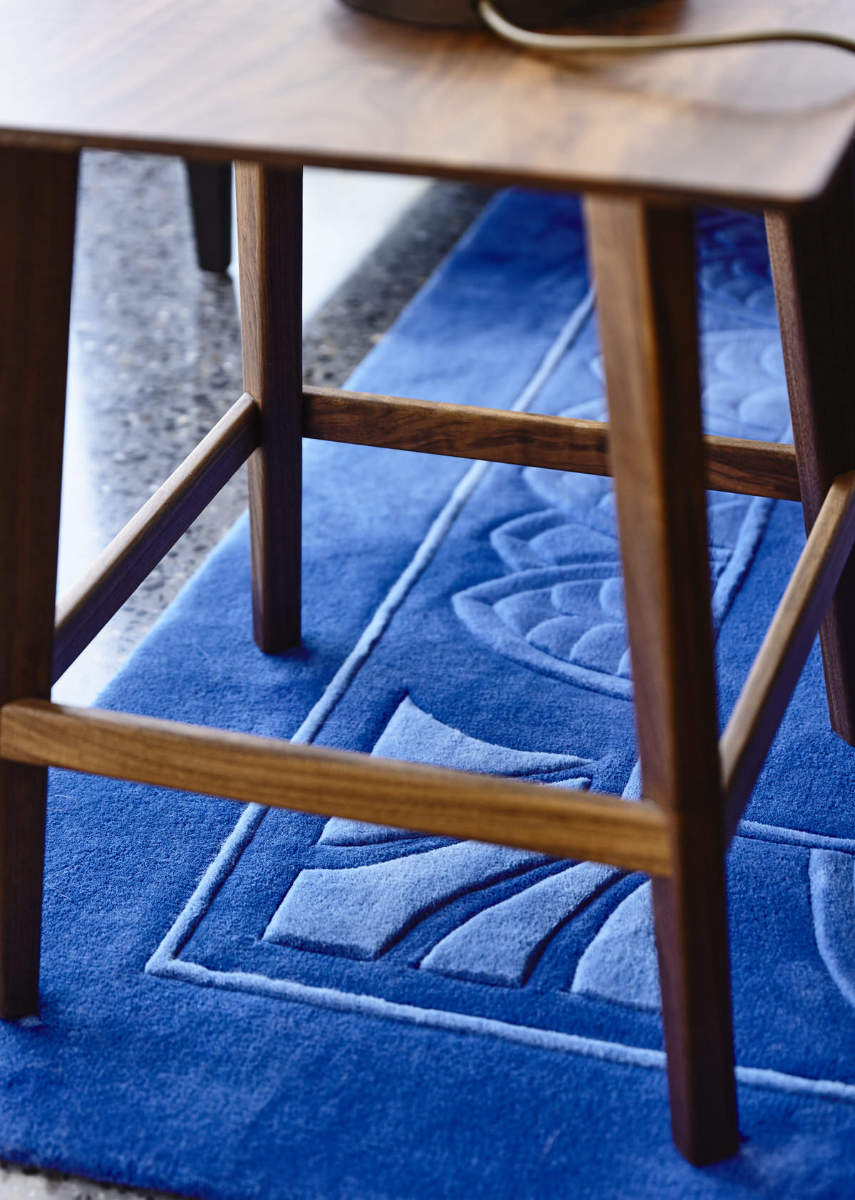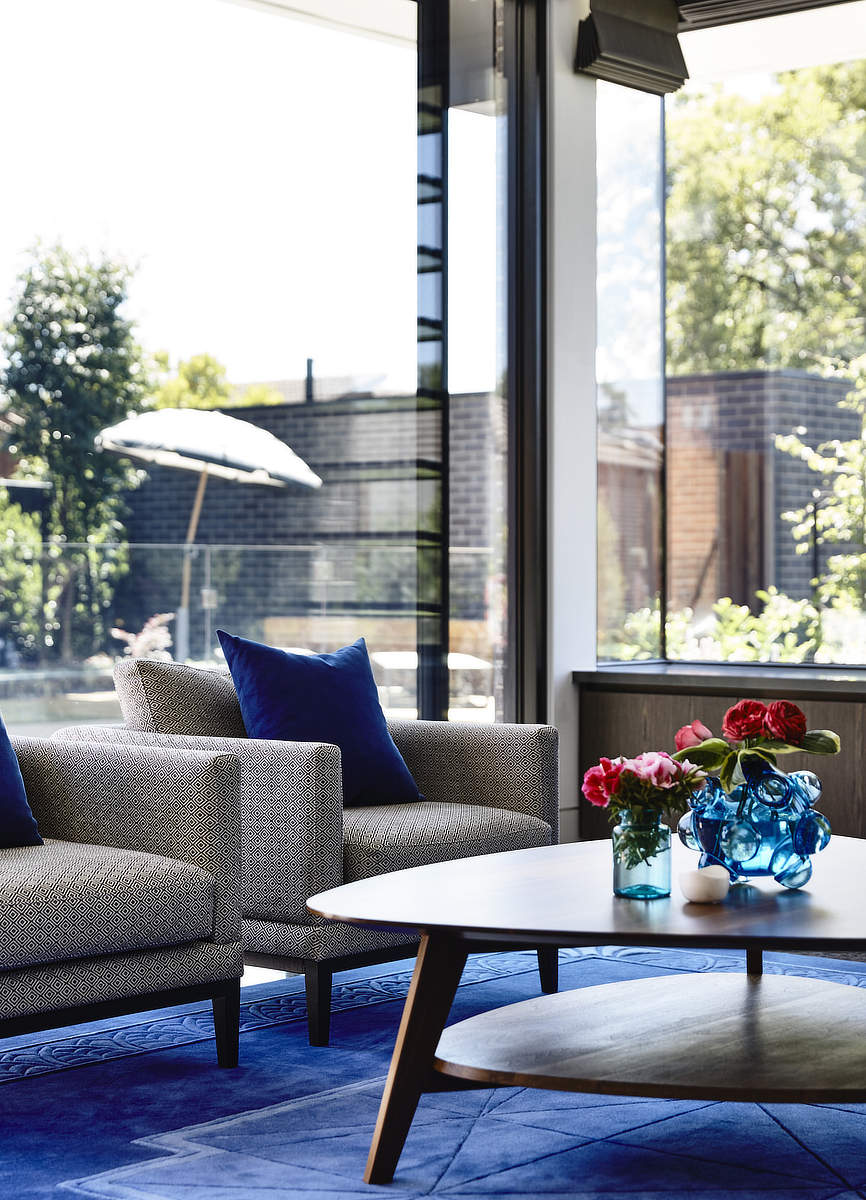 pics above Derek Swalwell
pic below  – badly, by me on a site visit!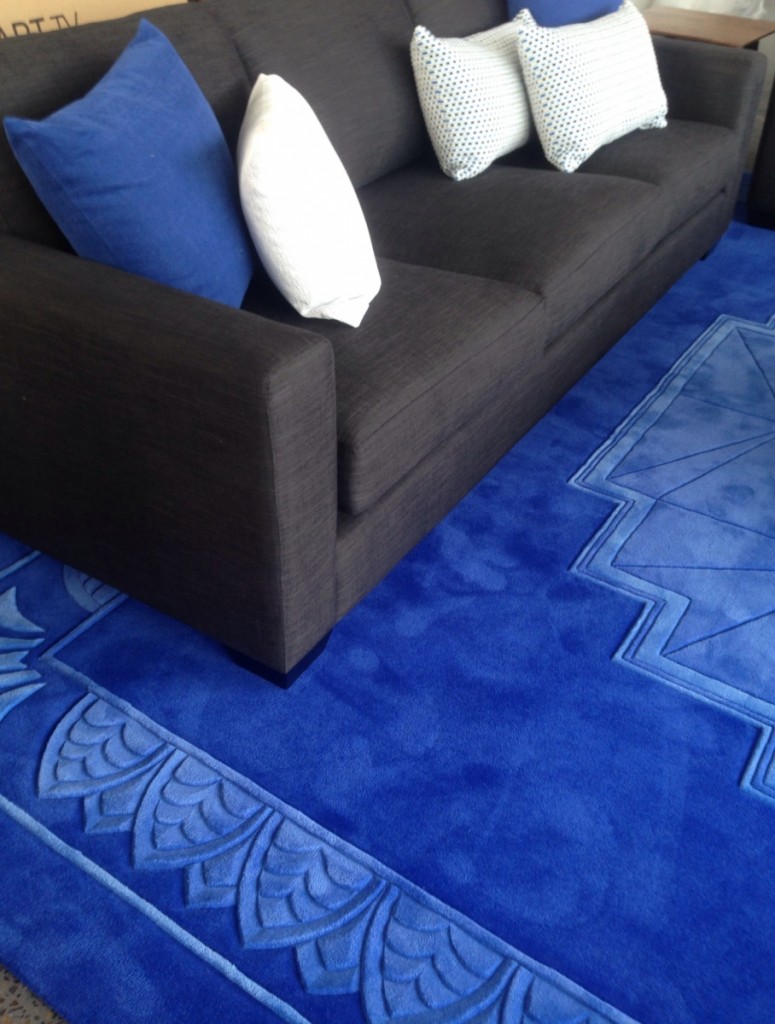 In the sitting room of the Kew house – a room with stunning original deco architectural detailing, we designed the interior for a sit & chat, or, to watch the kids musical performance in the adjoining room!
The design of the rug is paired back and is inspired by the spectacular detailing of the door handles in the room. When you scroll down, you'll agree – wow!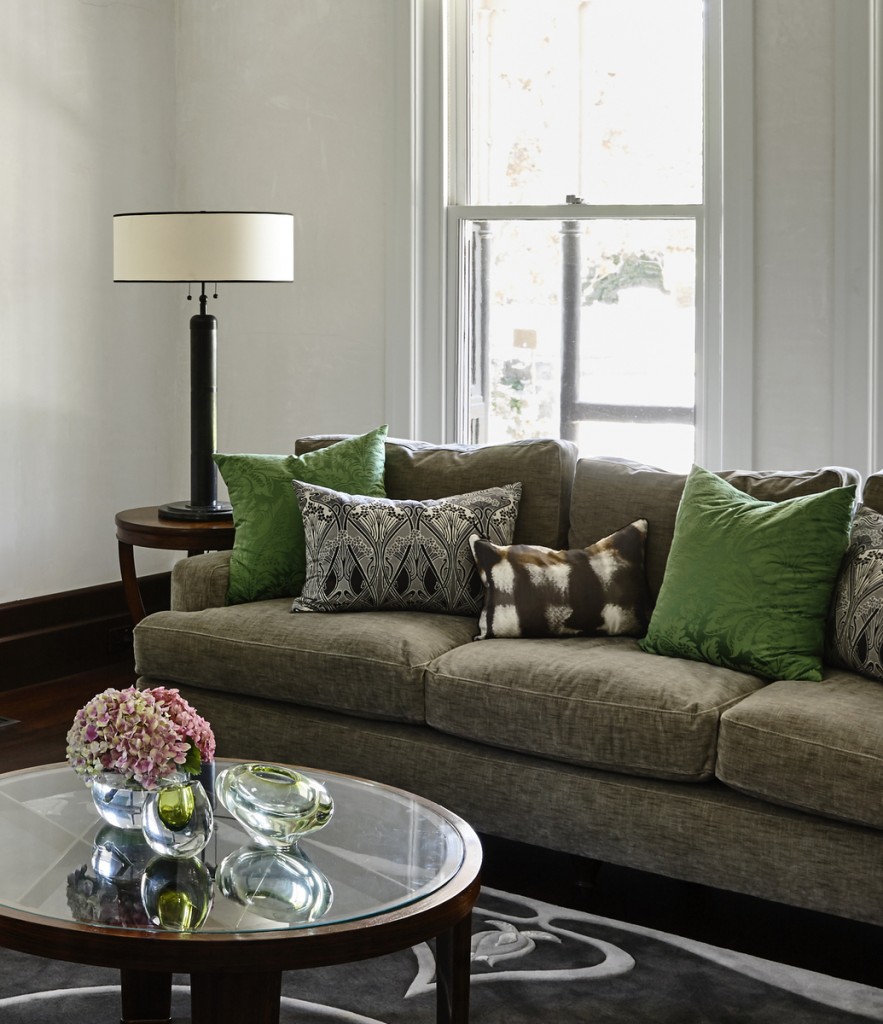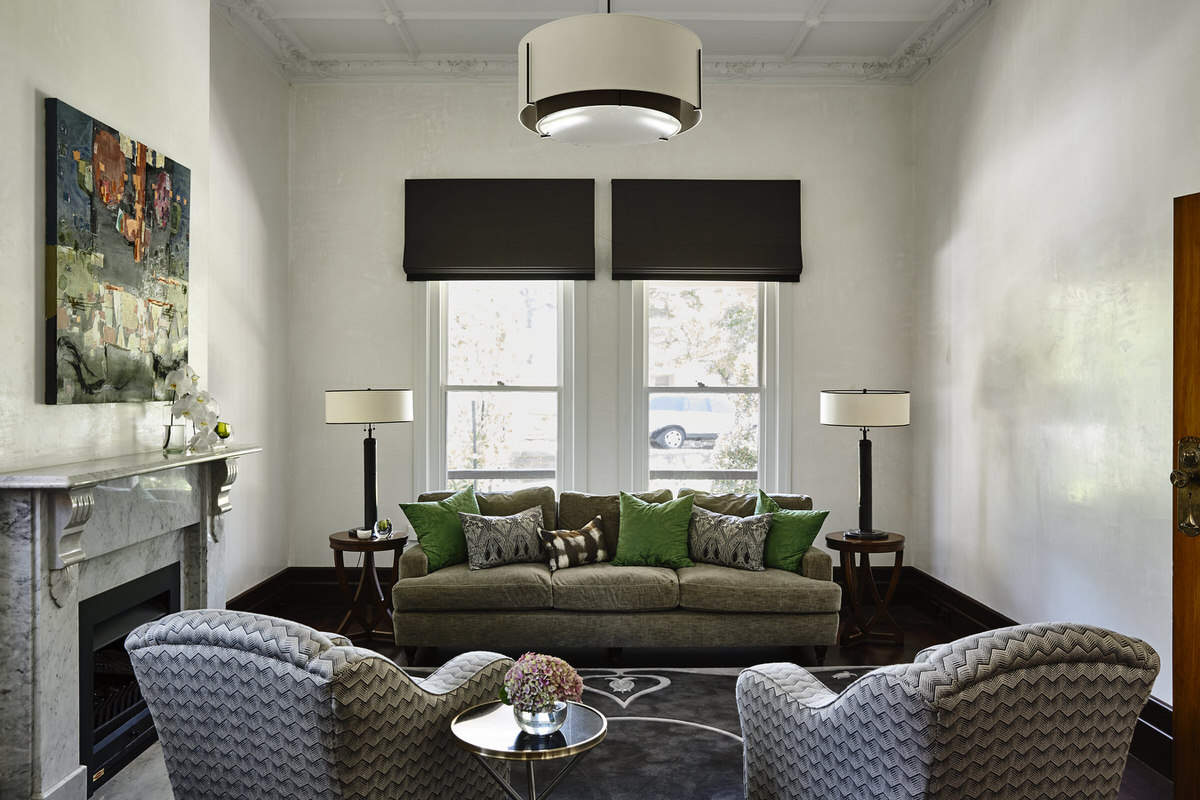 pics above Derek Swalwell.
pic below – from the blurriness you know its one of my site shots! The original door handles – see what i mean! Wow!!
Meanwhile, over at our St Kilda apartment we designed a modern & bold circular sculptured rug – a mandala design that also has bamboo silk within for an even more luxurious feel under foot!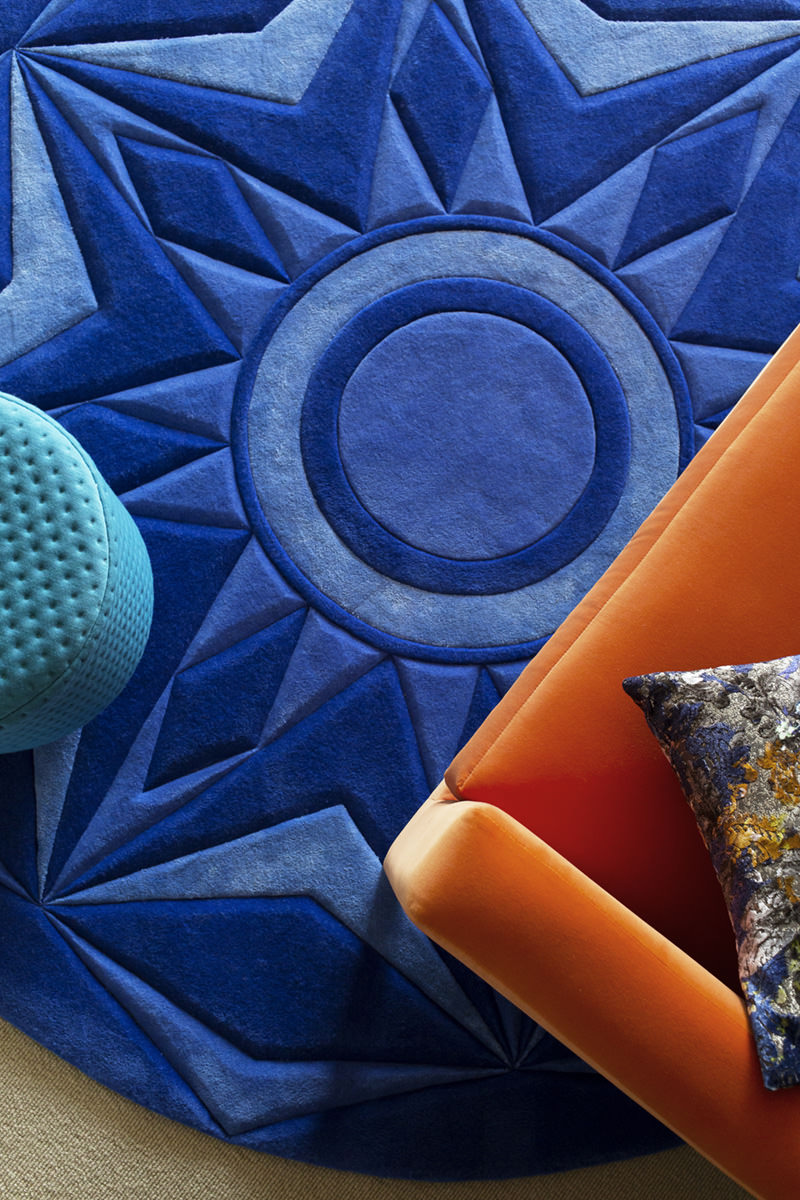 My clients initial brief for her apartment was a bright orange sofa! So with that sort of brief – its all about balancing the bold colour with more bold colour! And cooling the hot colour with a blast of cool colour!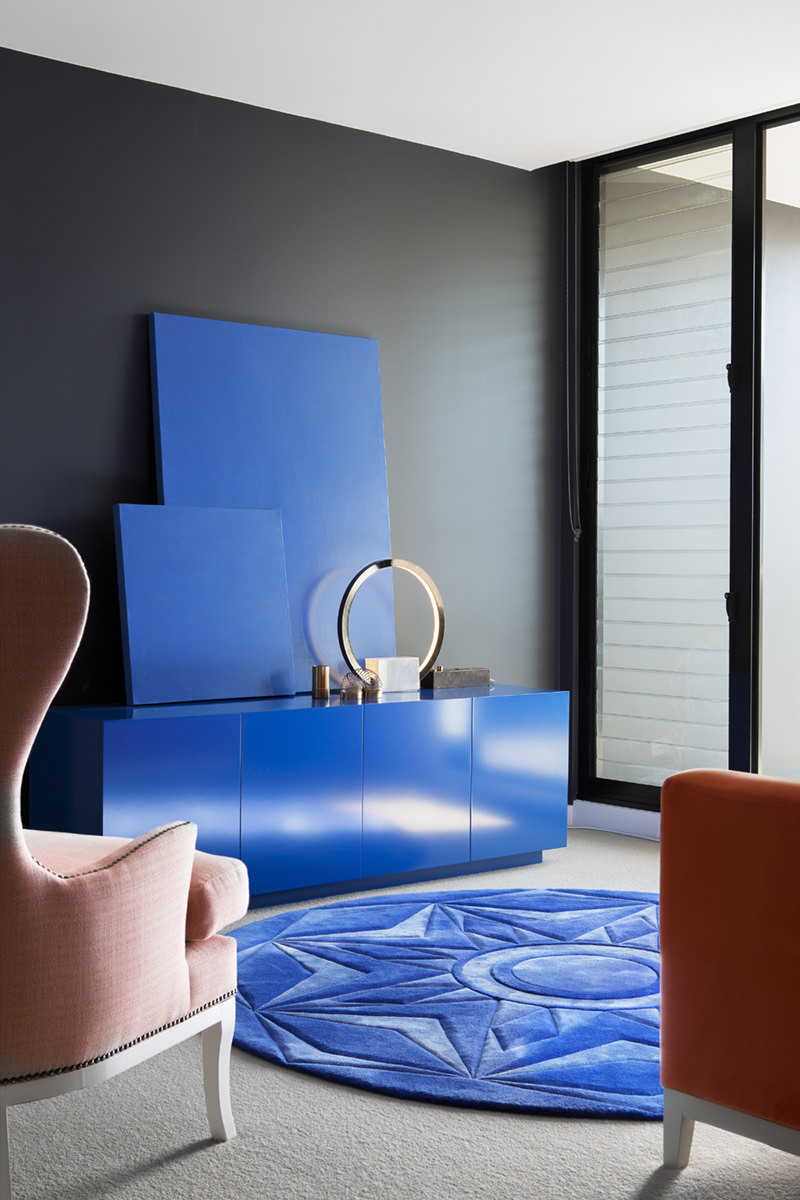 (pics Martina Gemmola)
Trev, my cat was very fond of this rug when I took it home for a moment! Used to living with hardwood floors, he dramatically threw himself upon the rug with his body language very obviously screaming loudly "this, THIS is how Im meant to live! THIS is what I want to be accustomed too! "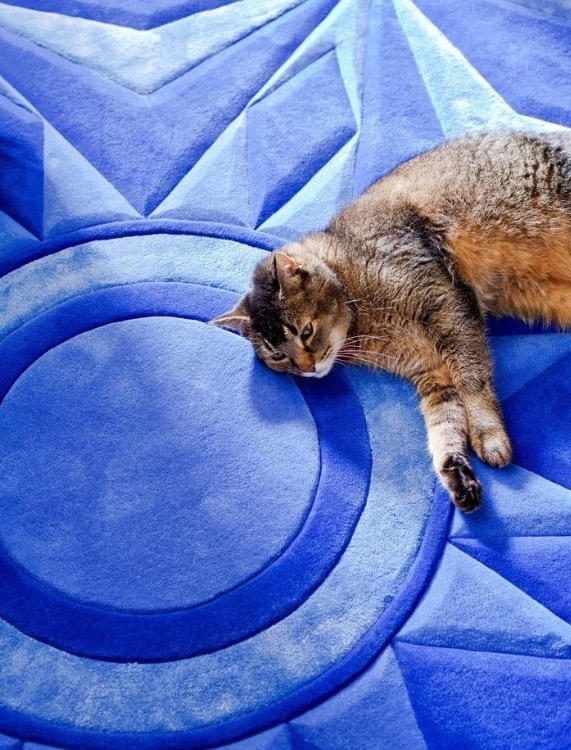 This pic Leanne Bertram for Apartment Therapy for a house tour of my beloved old apartment.
In the sitting room of our Prahran flowerhouse project, is another rug that we designed to mirror the deco detailing of the ceiling above.
It is hot pink & red! -partially designed to hide red wine spills! In this design we purposely left clean free of pattern spaces to balance with the overall pattern of the sofa. Always keeping the overall design of room in mind we are! This way the entire space works together rather than a disjointed bitsy space.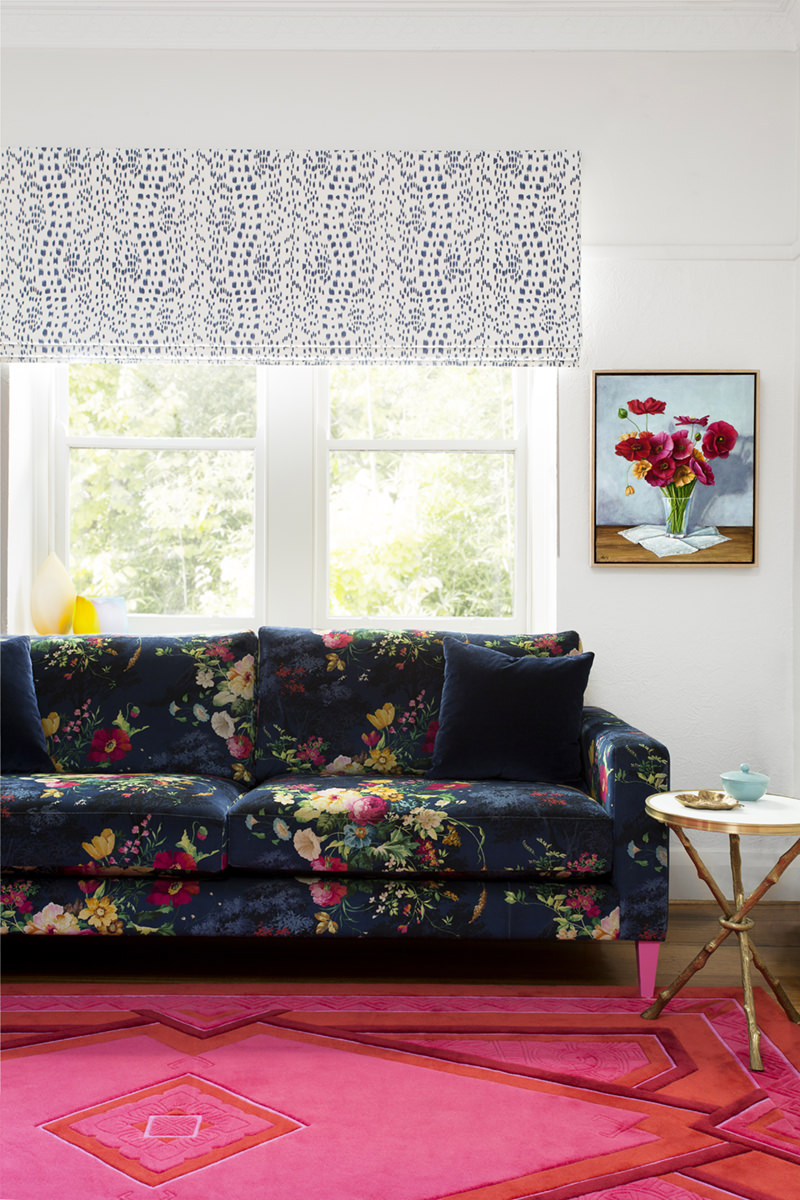 the ceiling above …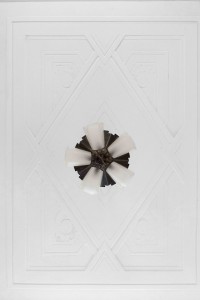 And down. The proportions of above & below work!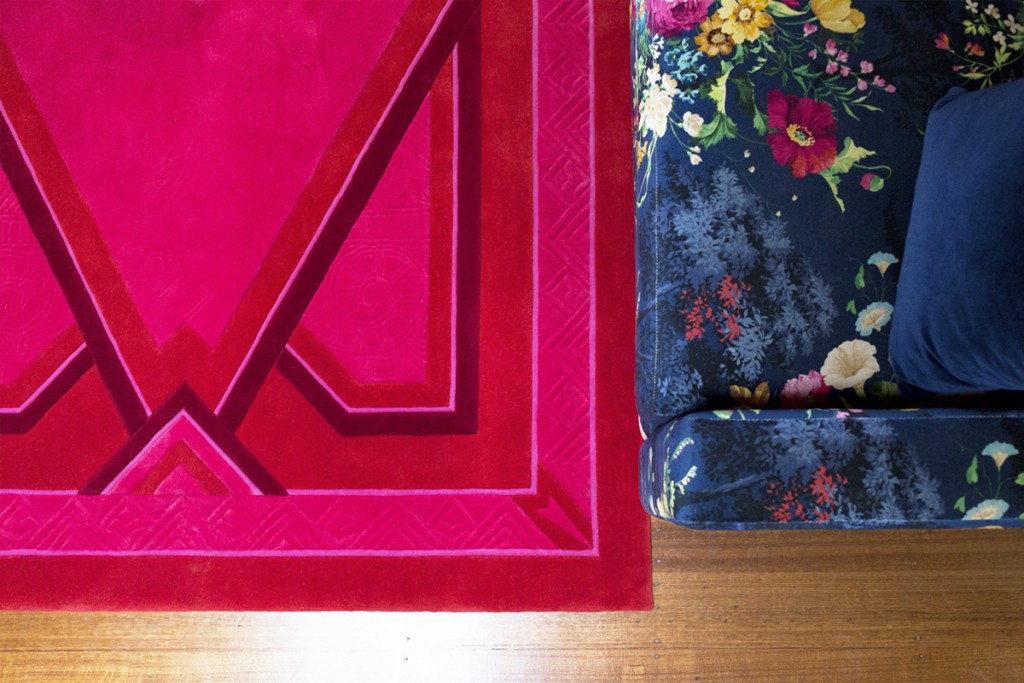 pics Martina Gemmola
Over at our Blues in Kew project, we went a little pattern freestyle for the rug! We wanted a pattern with some movement & this is what we came up with.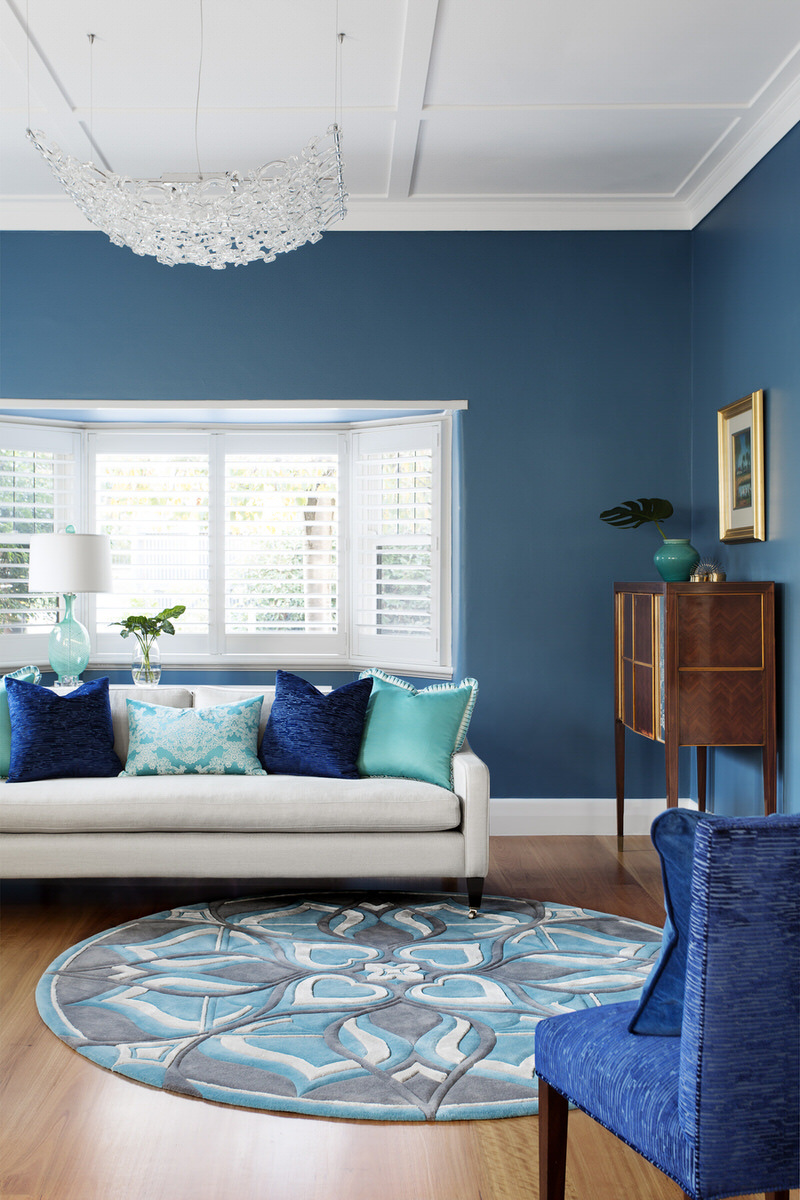 Maybe I was feeling a little loved up when I designed this?! Im not usually one for the heartsy feels….
(pics Martina Gemmola)
And finally for the rug round up, this little guy whose shape & design comes from an architectural floor plan of the Boros Collection, – a modern art gallery in Berlin that is situated in an above ground bunker.
My client had visited the gallery & was so taken with the building, and was passionately discussing the coolness of the building shape, that maybe me being a little rug obsessed, I suggested we turn the shape into a floor rug. But it works!!
I LOVE how it turned out!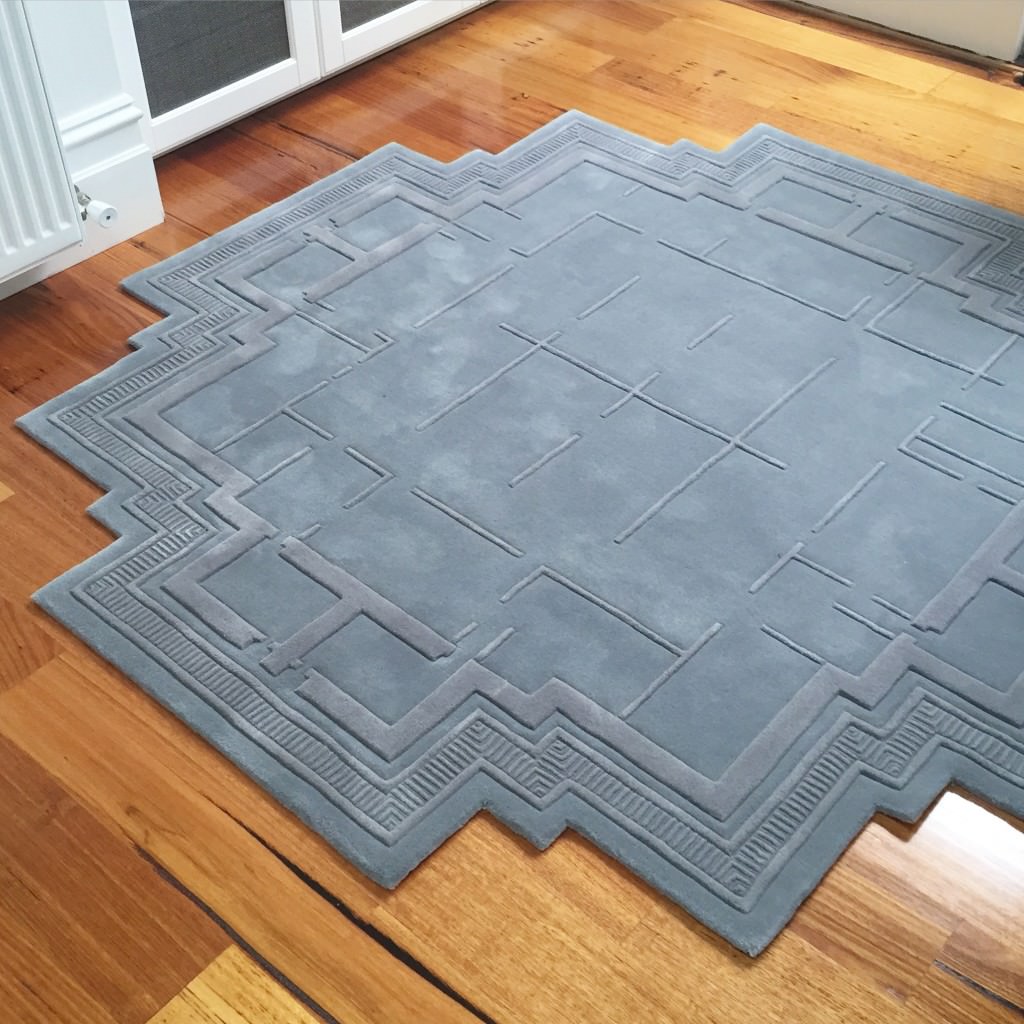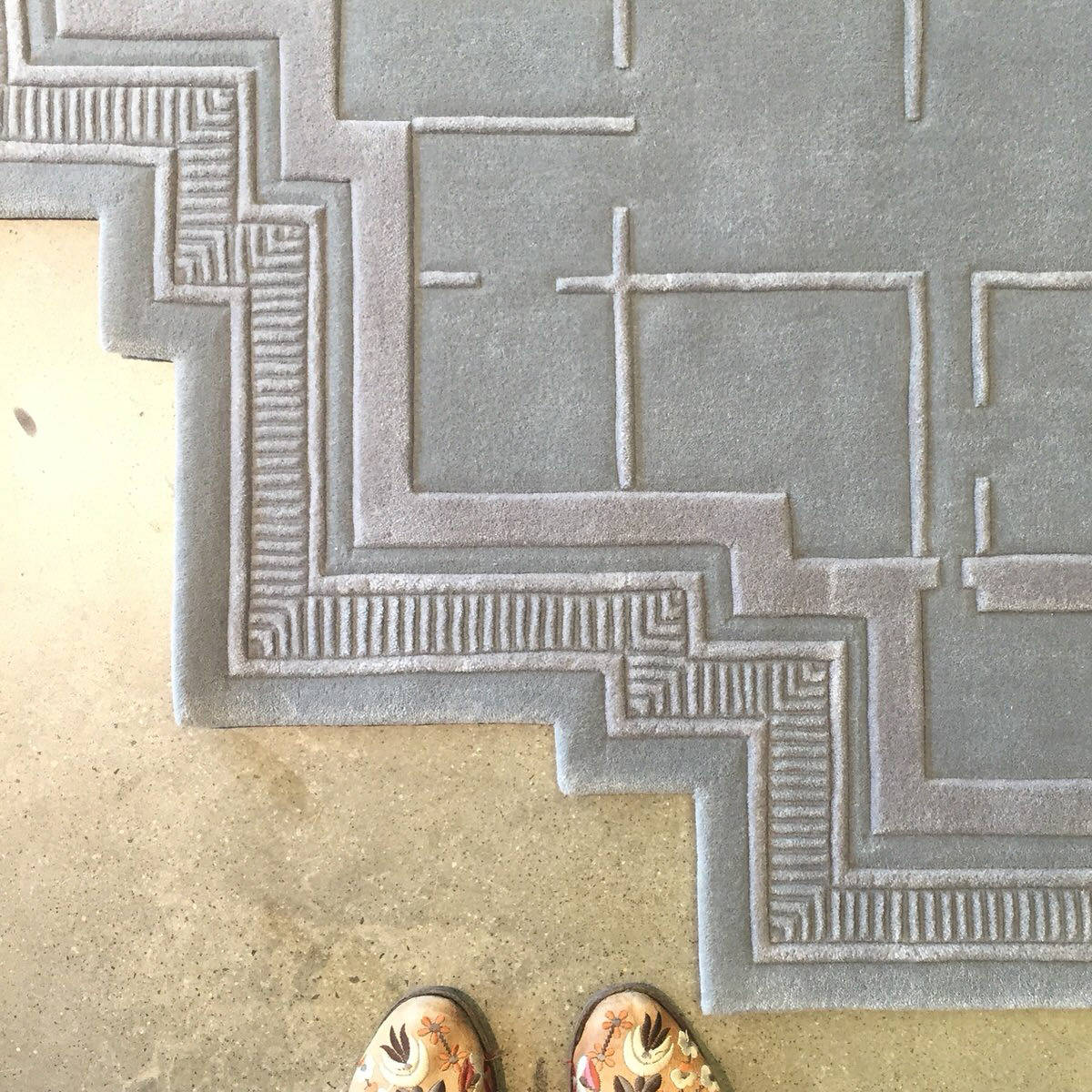 So there we go. That is a few of the bespoke sculptured rugs we have designed and used in a few of our projects. Something that is a little bit different!
Its another way to add unique and individualised personality into a room, which is the real ethos of what we do here at Camilla Molders Design. We focus on creating unique and individualised spaces for our clients. We couldn't really care less what the latest 'trend' is, or the 'colour of the year' because what happens once that trend is over? Your home should be a reflection of your own taste and lifestyle shouldn't it? I will rant about this a little further in another post!
Back to rugs…We have some more in the pipeline, including some interesting commissions, so watch this space! and drop me a line if you are interested in an individualised rug for you! Im open for bizzznessl